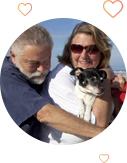 "We have a 12-year-old German Shepherd, and she was losing her mobility in her hips and right back leg. After a few weeks of joint strength chews, her leg stopped dragging so much and is in much better spirits. Worth the $$$ & she loves it!"
- Kristen M.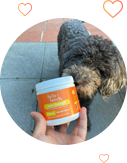 "My poor Cooper had trouble standing, sitting, and going up short stairs. My heart was breaking because he was in so much pain. Then we found these joint strength chews. Within 3 weeks, his mobility improved and his personality came back. I cannot thank you enough!"
- Vanessa T.

"My dog has really bad teeth and stinky breath. We started using the dental wash a couple weeks ago and it dramatically helped to improve her bad breath almost overnight. They drank this with no issue. Highly recommended!"
- Lisa O.


"Zeus has been active since I rescued him at 8 weeks old. Normally I love his energy but his middle of the night sprints we're getting annoying. I started giving him these calming chews before I go to bed and it has CHANGED MY LIFE. He now sleeps calmly all night!"
- Chris S.

"Both our dogs' breath was so horrendous, it stunk up whatever room they were in. We tried brushing and other products but it was still terrible. I bought Fresh Dental out of pure desperation and I'm so glad that I did! Within a few days of use, our dog's breath smells normal again. Will buy again and again!"
- Ken D.


"My 60 pound boxer is terrified of loud noises and rain. Nothing I did or tried helped. A friend recommended the calm + comfort chews and the first time I saw a storm was coming I gave her some. She was calm, stayed on her bed (vs hiding in the bathroom), and was not trembling. Finally, she is such a happier dog now. Thank you Felix + Fetch!!"
- Lauren W.